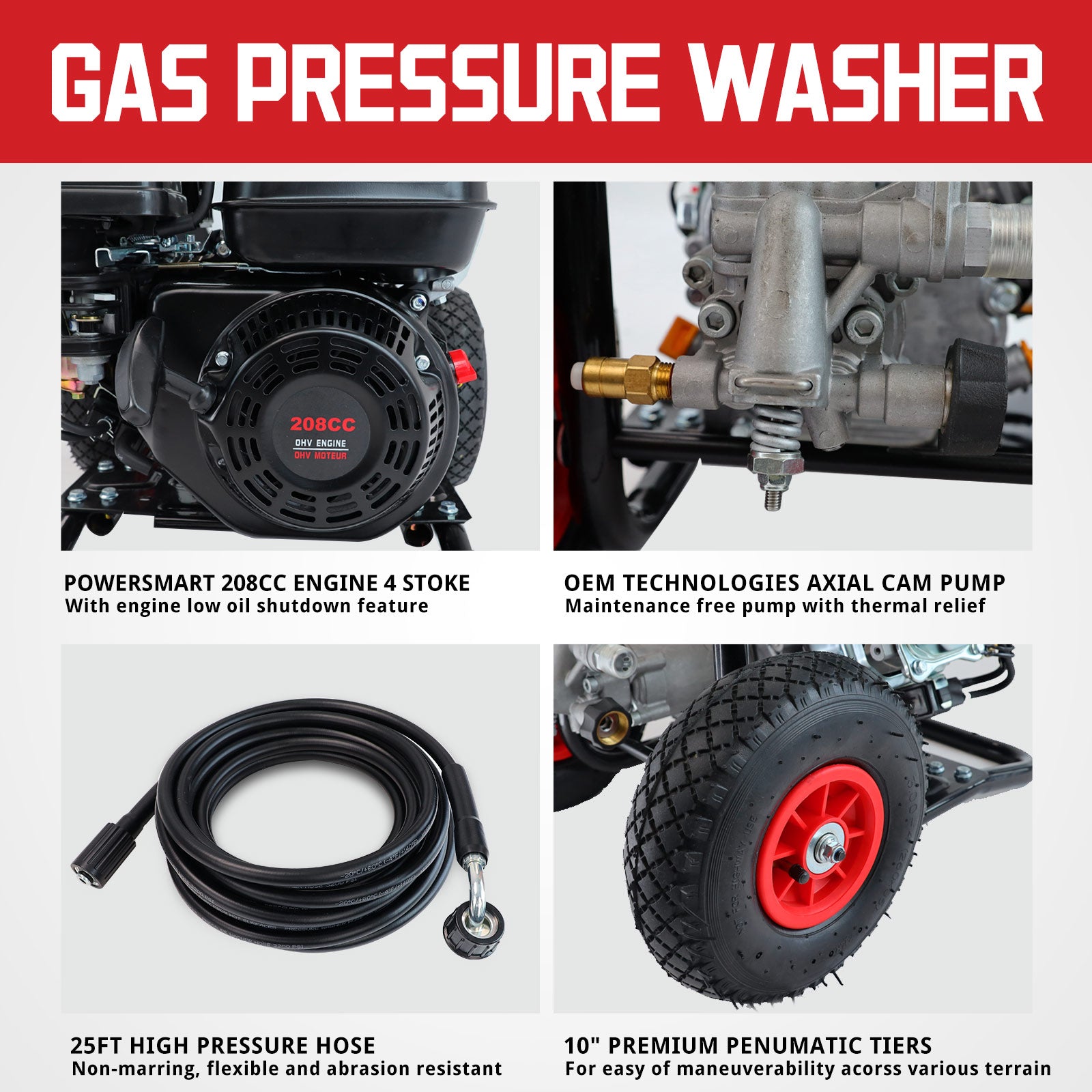 3200PSI Gas Pressure Washer with 208cc Engine, 2.5 GPM
●Checkout price:$299.99 😍
● Powerful Cleaning: This 3200 PSI, 2.5 GPM gas pressure washer tackles decks, patios, sidewalks, siding, fences, and more. It's a versatile cleaning machine.
● Convenient Features: Enjoy a 0.7-gallon gas tank for easy filling, an onboard 0.8-gallon soap tank, and a 25-foot abrasion-resistant hose. It also includes 5 quick-connect nozzle tips and a lightweight spray gun.
● Robust Build: Built with a heavy-duty 208cc 4-stroke OHV engine and a maintenance-free OEM Technologies axial cam pump. It's designed to last and includes a thermal relief valve to prevent overheating. The welded steel frame with a powder-coated finish adds durability.
● Portable Design: This pressure washer is lightweight and portable, featuring a compact design and 10-inch premium pneumatic tires for easy maneuverability on various terrains. Dimensions: 22.4 x 21.3 x 19.1 inches.
● Quality Assurance: All PowerSmart pressure washers are functionally tested at the factory. They are CARB compliant and come with a 2-year limited service warranty. Our support team is ready to assist you.
3200PSI Gas Pressure Washer with 208cc Engine, 2.5 GPM
Description
Specifications
Reviews, Q&A
Manual & Documents
Gas Powered Pressure Washer: Model
Fuel tank capacity: 0.7 Gallon

Oil capacity: 20.3 fl. oz

Max.Flow (Gal/Min): 2.5 GPM

Package dimensions (L x W x H): 22.4 x 21.3 x 19.1 inches

: