PowerSmart Blog
Power Up Your Home with the PowerSmart 4500W Gas Generator
by Kellen Peng on Sep 08, 2023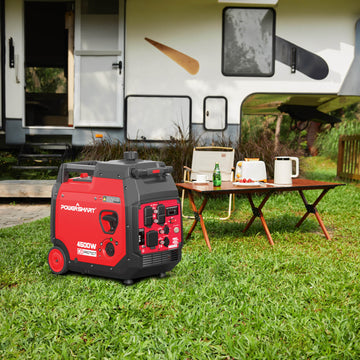 When it comes to reliable power supply during emergencies or outdoor adventures, the PowerSmart 4500W Gas Generator stands as a trusted and essential companion. In this blog post, we'll explore the exceptional features of this gas generator and how it ensures your power needs are met, even in the toughest situations.
Uninterrupted Power Supply: The PowerSmart 4500W Gas Generator is designed to provide you with a continuous power source when you need it most. Whether it's a power outage, a camping trip, or a construction site, this gas generator offers a reliable and stable power supply.
Safety First with CO Detect: One of the standout features of this generator is its built-in CO (Carbon Monoxide) Detect technology. Your safety is our priority, and this gas generator is equipped with a sensor that constantly monitors CO levels. If elevated CO levels are detected, the generator will automatically shut off to protect you and your loved ones from potential harm.
Powerful Performance: With a robust 212cc OHV engine, the PowerSmart Gas Generator delivers 4500W of peak power and 3500W of rated power. This means it can effortlessly handle a wide range of appliances, tools, and devices, ensuring your essential equipment remains operational.
Multiple Outlets for Convenience: Equipped with multiple outlets, including 120V AC outlets and a 12V DC outlet, this gas generator allows you to connect various devices simultaneously. Keep your lights on, charge your electronics, and power your tools with ease.
Portability and Ease of Use: Despite its power, the PowerSmart Gas Generator is surprisingly portable. Its compact design and durable wheels make it easy to move and position wherever you need power. The user-friendly control panel provides simple operation, even for first-time users.
Perfect for Outdoor Adventures: Take this gas generator with you on camping trips, outdoor events, or wherever your adventures lead. It's the perfect solution for providing electricity in remote locations, ensuring you have all the comforts of home wherever you go.
Conclusion: Don't let power outages or outdoor adventures disrupt your plans. Invest in the PowerSmart 4500W Gas Generator with CO Detect and enjoy uninterrupted power supply with added safety features. Whether you're facing an emergency situation or embarking on an outdoor journey, this gas generator is your dependable source of power.
Ensure your peace of mind and power up your life with the PowerSmart Gas Generator. Get yours today and experience the reliability and safety it brings to your home and adventures.