PowerSmart Blog
3 Essential Steps for Fall Yard Cleanup
by Kellen Peng on Oct 13, 2023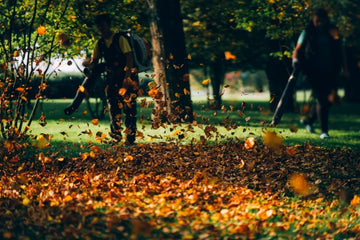 1. Mulch Leaves
Fallen leaves serve a dual purpose in lawn care, as they can either nourish your lawn or hinder its growth when overlooked. To ensure the continued beauty and vitality of your yard, it's essential to approach leaf management with care.
The key to using leaves as mulch is to finely shred them into pieces about the size of a dime. Larger leaf pieces can obstruct sunlight from reaching your grass and provide shelter for potentially harmful pests. The good news is that breaking down leaves into smaller fragments is a straightforward task.
Once your yard is adorned with a fresh layer of finely mulched leaves, a few passes with a mulcher or lawn mower are all you need. This process effectively slices and disperses the valuable nutrients contained within the leaves. The result is a natural layer of fertilization that benefits your garden, flower beds, compost, and more. It's crucial to ensure that the leaves are finely mulched before you begin spreading them.
If your preference is to remove dead leaves from your yard, using a rake or leaf blower to gather them into sizable piles for easy bagging and composting is a good choice. For those who don't compost at home, it's worth checking with your county or city to inquire about potential composting programs that may even offer mulch in exchange.
2. String it Up
As autumn approaches, you may notice some vigorous growth in your yard, with unruly weeds and bushes that need trimming. It's the perfect time to bring out a powerful and versatile tool, such as the PowerSmart 40V 13-inch cordless string trimmer, complete with a battery and charger.
This tool is not only great for maintaining your lawn but also for tackling those hard-to-reach areas, ensuring your entire yard looks refreshed. Unlike gas-powered trimmers, this cordless string trimmer is more environmentally friendly, as it doesn't produce harmful emissions. So, it not only offers a beautifully manicured yard but also contributes to environmental protection.
Plus, you don't have to worry about the limitations of power cords or cables because this trimmer features a cordless design, providing you with the freedom to move around. In your fall yard cleanup, this tool is your trusted companion, helping you cut down those overgrown grass and prepare for the approaching winter. Whether it's trimming branches or tidying up the lawn, PowerSmart's cordless string trimmer can get the job done quickly, leaving your yard refreshed and ready for the winter season.
3. Pressure Wash
Pressure washing not only keeps your outdoor spaces looking fresh but also prevents the buildup of damaging mold and mildew. It's a satisfying task that you should tackle before the weather turns too cold. With the PowerSmart pressure washers, you have the perfect tool for the job, with nozzles designed for every type of surface.
Start by gathering your outdoor items, like rugs and patio furniture, and give them a thorough rinse to remove all the dust, dirt, and pollen that accumulated during the summer. While waiting for your furniture to dry, use your pressure washer to clean your driveway, deck, front porch, fence, and anything else that needs a good cleaning. The possibilities are endless—swing sets, basketball hoops, bikes, and more. We even offer portable pressure washers for cleaning fences, docks, and other outdoor equipment.
Make sure to complete this task before the freezing temperatures arrive. It's not safe or practical to pressure wash in cold weather, and the freezing conditions can damage your pressure washer.
In summary, fall yard cleanup is essential to maintain the beauty and health of your outdoor space. Mulching leaves and using them as natural fertilizers is a responsible and eco-friendly approach. The PowerSmart 40V 13-inch cordless string trimmer offers a convenient and environmentally friendly solution for keeping your yard neat and trim. Lastly, using a PowerSmart pressure washer ensures that your outdoor areas remain fresh and free from mold and mildew, but remember to complete this task before the arrival of freezing temperatures to avoid any damage. Get your yard ready for winter with these three essential steps.